Miele S4212 Neptune Canister Vacuum Cleaner
Miele S4212 Neptune Canister Vacuum Cleaner Review
Welcome to our review of the Miele Neptune Canister Vacuum.
Miele makes some of the best vacuum cleaners on the market today. A german based company, they won the "most successful business" award in Munich, beating out Google, in 2007. While not inexpensive, their vacuums are well known for their quality and are preferred by countless hotel staffs around the world. But how does their S4212 Neptune Canister Vacuum stack up? On this page, we will take a detailed look at the Miele Neptune Vacuum, compare reviews of this vacuum by real customers, point out any negative reviews, and give an overall rating. 
Miele S4212 Neptune Vacuum Description & Features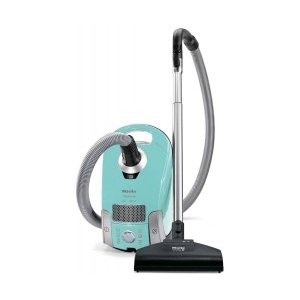 Miele offers a few different canister vacuums. All of them, at first glance, appear to be very similar.
The most important thing to consider at when buying a Meile vacuum is the floor tool or tools that come with the particular model vacuum you are looking at. Different floor tools perform better on different floors. (See the brief Floor Tool Comparison on this page).
The S4212 Neptune comes with both a parkett tool for hardwood floors and a turbobrush that is great for light or medium carpeting and pet hair.
The Miele Neptune is most popular among those users with more hardwood floors than carpeting or with a combination of hard wood and light carpeting.
There are many features of the Miele Neptune that make it a top of line vacuum, many of which are shared among all Miele models. One of most useful is the suction control capability. The Miele Neptune comes with a super powerful 1200 watt high-output Miele Vortex Motor and offers the ability to adjust the suction power easily for when you're around curtains, loose rugs, or when you just don't need the vacuum at full power. 
Another advantage of Miele Neptune vacuum is Silence-Noise insulation, which really helps to keep the vacuum extremely quiet. If you ever dreaded rolling up the cord on an upright vacuum, you'll also really appreciate its retractable power cord.
Features
STB 205 Turbo Brush for Carpets and Pet Hair
Powerful 1200 watt motor powered by Miele-made Vortex Motor System
Telescopic suction tube. Can be adjusted to fit you to perfection.
Can clean for up to 30 feet until needing to unplug the cleaner
Upholstery tool that is perfect for cleaning soft furnishings with maximum efficiency while protecting more delicate materials
Reviews
Reviews of the Miele Neptune are very good overall, with 83% of consumers giving this model 5 out of 5 stars. The most common negative remarks about the S4212 are in regards to cord length, which is only 30 feet or so. 
Sample Customer Reviews
Positive Customer Reviews
My partner and I decided we had to purchase a new vacuum cleaner after we adopted a new dog. The dog had a shedding issue and brings a lot of dirt into our apartment. The Neptune does come equipped with a HEPA filter, but you can buy one and put it in. Three things I love about this machine: 1) the heads maneuver easily under furniture -- especially the parquet twister. 2) Great suction, surprising for such a compact machine, but much quieter than our old upright. 3) The variable power settings are useful for vacuuming different surfaces without damage. I can even vacuum my 5 month old puppy's fuzzy coat on the lowest setting with the upholstery head without freaking him out. 4) The bag is designed for easy replacement without scattering dust.
-- Polecat
After comparing a number of models, I decided on  3 reasons-
1) it comes with an excellent parquet brush, much better in use than the standard brush that is normally shipped and that I found somewhat useless in Europe
2)the carpet turbo brush that is ships with this model as well, which I needed for use on a few area rugs
3)the variable speed to enable cleaning things other than floors and carpets
-- D.S.
Negative Customer Reviews
While most of the reviews of the Miele Neptune S4212 are outstanding, there are a few features that some customers have commented negatively on. 
I SO wanted to love this vacuum. I don't:
1) cord too short to reach across my living room (and I don't live in a big house)
2) like my other miele vacuum, the bag-full indicator is not to be believed - it seems to register half full even with a new bag; same problem on my first miele, I called the local dealer - he said it's a common problem, doesn't know why miele keeps the feature because it never seems to work right and people think there's something wrong with the vacuum when it's really just the indicator.
3) I'm really not rough with it, but the vacuum tips over easily;
-- F.M.
Recommendation
The Miele Neptune S4212 is a great vacuum, especially for hardwood floors. I agree with some of the negative comments (cord could be a little bit longer) and bags can be expensive, but if you're looking for a high-performance vacuum cleaner, the Miele Neptune S4212 Canister Vacuum is a great choice.