Miele Titan Canister Vacuum S2180
Miele Titan Canister Vacuum Review
Welcome to our review of the Miele Titan S2180 Canister Vacuum.
Miele is a german company that combines cutting edge technology and engineering to produce some of the finest vacuum cleaners on the market today.  All Miele vacuums feature superior design, durability, and performance. 
In this review, we will be looking specifically at the Miele Titan Canister Vacuum, which is part of Miele's S2 line of vacuums. We will look at the Titan's features, look at reviews by real people who have purchased this vacuum, we'll point out any negative comments or features, and we'll give an overall rating on the Miele Titan S2180. 
Miele S2180 Titan Vacuum Description & Features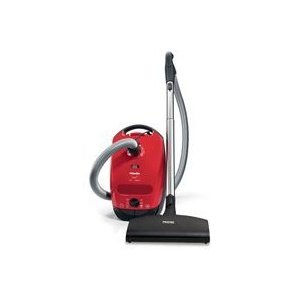 Miele makes a variety of different canister vacuums. In their S2 line alone, you'll find the Olympus, Capri, Dephi, and Titan models. So, what sets the Titan apart?
All Miele vacuums include a powerful Vortex motor and features like quiet operation, but the first thing you will need to look at before making a purchase is the type of floor tool the model comes with. Each model may or may not include all the different tools, and these floor tools determine what type of flooring the vacuum will perform best with. 
The Miele Titan comes equipped with the Electric Floor Tool (Model SEB217).  This is a motorized tool that provides deep cleaning and suction and is perfect for thick carpeting or for anybody with pets or traffic in high traffic areas. 
Other features include a Parquet floor brush, telescopic wand (stainless steel), electric hose, and rotary dial suction control with abililty to adjust suction power.
The Titan also comes with a HEPA filter.
Features
Electric Floor Tool SEB217
Six different power settings
Electro Comfort Powerbrush
Smooth Floor Brush
Electric Hose
Active HEPA Filter
Electric Telescopic Wand
Vortex Motor
29.5 feet cord length and operating area
Miele Titan Reviews
Reviews of the Miele Titan Canister Vacuum are excellent overall, with over 90% of all reviews found being either 4 of 5 stars.  The biggest complaint about the Titan S2180 (any many Miele vacuums) is that the cord length is shorter than many other vacuum manufacturers.
Sample Customer Reviews
Positive Customer Reviews
This is the best vacuum cleaners I have ever owned. It's very quiet, never loses any suction even when the bag is near capacity. The titan's small 12" powered head can fit under almost everything. After several vacuums, my one destroyed looking carpet looks new again. I notice there is less accumulation of dust in the home. We never purchase another vacuum cleaner again. This one has all the features of the $1000 models, same motor, power head, etc. I actually enjoy vacuuming with this.
-- Frank L.
This is an amazing vacuum! I have 2 cats and a dog, which means a lot of pet hair, but it is no match for this vacuum. It picks up everything and is so easy to move around.
-- K.P.
Negative Customer Reviews
While most of the reviews of the Miele Titan are outstanding, there are a few features that some customers have commented negatively on. 
The canister rests on 3 wheels like most other models, but the front wheel of this one is relatively close to the center of gravity, which makes it unstable. It tends to easily tip to either side.
-- C. Donner
I bought the Miele Titan vacuum over three months ago. It was a mistake. The electric telescopic wand heavy and unwieldy. Your arms will ache after using it.
-- Husky