Intex Prestige Downy Airbed with Handheld Pump
Intex Prestige Downy Airbed Review
Welcome to our review of the Intex Prestige Downy Air Mattress.
The Intex name is well known and recognized in the air mattress industry. In this review, I will focus on the Intex Prestige Downy Air Mattress. I will look at the features of the Intex Prestige Downy Air Mattress, compare customer reviews, talk about the any negative reviews this mattress might have, and give my overall recommendation and rating.
Intex Prestige Downy Airbed Description & Features
The Intex Prestige Downy Air Mattress is an ideal airbed choice for anyone looking for an inexpensive air mattress for use on camping trips and outdoor trips. The flocked top gives comfortable sleeping surface and is waterproof. Comes in queen and twin sizes. The queen comes with a battery operated pump. The twin includes a hand pump.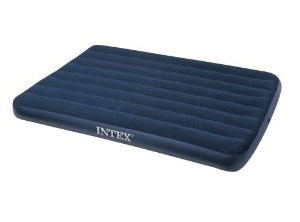 Features
Waterproof Top
3-in-1 control device offers wide openings for quick inflation and deflation
Traditional bed mattress dimensions allow for bedsheets to fit effortlessly
Folds up completely for safe-keeping and traveling
Reviews
I have owned a few of these Intex Prestige Downy Air Mattresses. The biggest draw to these are the price. You can find them for less than $25 and many places offer free shipping.
We do a lot of camping where we make use of air mattresses. We find these to be perfect for use in our tents. Since these are not raised mattresses, they don't take up much space and easily fold back up for storage. I have also used one of these for use in the bed of my truck, but have recently upgraded to a more durable model.
The biggest problem we have had with these is long term durability. On average, I'd say they last around 3-5 months of sporadic but heavy use before starting to slowly leak air. In my experience, once they start to leak, it's time to replace them.
But if you're heading on a camping trip and need a cheap air mattress that will likely hold air throughout the night, these are a perfect choice.
Other customer reviews of the Intex Downy Airbed are very good.
Sample Customer Reviews
Positive Customer Reviews
Purchased a couple of of these air mattresses for a camping trip. Both kept their air for the Entire five evening outdoor camping getaway. They ended up being simple to blow up, effortless to flatten, and Extremely comfy! Excellent!
-- Mike R.
I purchased a set of these air mattresses at the very last second on cost alone simply because we required a set of two twin mattresses quickly. They kept their air through several full days/nights of backpacking by a pair of teen boys. The kids like to jump down and bounce on the mattresses - playing around as children do. We used regular twin linens which remained tucked in. The air beds did not really get chilly in the evening (the flocking facilitates) and in no way lost a tad of air. They were really fast to blow up, speedy to deflate, and simple to roll up to load up for upcoming trips.
-- V. Spencer
We utilized this particular air mattress on getaway for my 2 year old child. It worked flawlessly, speedy set-up and take down. The quality of the air mattress is the finest I have ever observed from an air matt
-- M.B.
Negative Customer Reviews
They will keep working for about ten to fourteen nights completely filled with air and after that they start to lose air slowly. Does not completely deflate, just will get to the low on air point, which usually is irritating come early morning. I noticed the locking cap is a bit difficult to function as well. They need to rethink the design.
-- I. McDaniel
All of us took this mattress camping and utilized it for three evenings. It was excellent! We used it again over a month later for guests and it lost air in the middle of the evening. I believed perhaps we did something wrong, so we attempted once again the following evening, and again it lost air and went flat. There are no holes that we can see in the air mattress but it just won't hold air anymore. With no warranty on this product, we are out of luck.
-- F. Kidd
Recommendation
If you are looking for a cheap airbed and aren't looking for a long-term bedding solution, the Intex Downy Airbed is definitely worth considering. It's not going to last forever and isn't the most comfortable air mattress you will find, but is perfect for camping trips or a quick fix solution for a temporary bed. Be aware that there is no warranty offered with this model. My 4-star rating is due in large part to the inexpensive cost of this model.