Serta Elevated Diamond Coil Airbed
Serta Elevated Diamond Coil Airbed Review
Welcome to our review of the Serta Elevated Diamond Coil Airbed.
The Serta name is well known in the regular mattress industry, but how do their air mattresses match up? In this review, I will look at the features of the Serta Diamond Coil Airbed, compare real customer reviews, talk about some of this product's negative features, and give my overall recommendation.
Serta Airbed Description & Features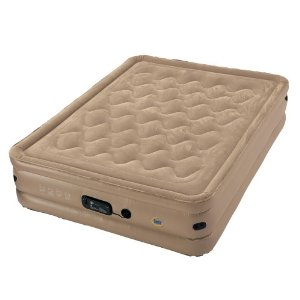 The Serta Mattress brand is well known in the mattress industry for their premium regular spring mattresses. They have been a leading manufacturer of premium mattresses for over 75 years. They now offer their premium styles in temporary bedding options that offer the same comfort and quality that Serta is known for.
The Serta Elevated Diamond Coil Airbed is a true queen size bed. It measures 80" x 60" x 18". The 18" height of the bed makes it easy to climb in and out. It is constructed using a polyester material that is both durable and stretch proof and the diamond coil designs gives the mattress a sturdiness unmatched by traditional air mattresses.
Features
Super-Easy inflation and deflation with built-in air pump.
Incorporates coil construction like in regular mattresses for comfort and support unmatched by regular air mattresses.
Comes with clips for sheet integrated for secure and easy bed fitting.
One year limited warranty
Reviews
I have owned my Serta Airbed for over a year now and it easily of one the best air mattresses I have purchased. We make use of air mattresses on a regular basis both at our cabin and while camping in tents. This Serta model is used as our full time bed at the cabin.
The bed inflates in just minutes using the built in air pump. We rarely deflate the bed, but it is a fast and straight forward process. It holds air better than almost any air mattress I have owned. If fact, we leave the cabin unoccupied for weeks at a time and the mattress rarely needs filled with air when we return.
Two features of this Serta air mattress stand out in particular to me. One is the coil construction. The bed sleeps and feels like no air mattress I have ever used. It is extremely comfortable. The coil design gives the bed a very study feel and combined with it's 18" height really makes it feel like you're sleeping on a regular spring or coil mattress.
Another great feature is the material the mattress is made of. This mattress is "thick". It is made of a heavy gauge, punch resistant PVC material that is extremely durable.
Sample Customer Reviews
Overall, customer reviews of this product are excellent:
Positive Customer Reviews
I made a decision to hold off composing a review for this airbed until making use of it for some time. I picked this up for my daughter for her bed. You'll find it a little more costly compared to many, however it really is superb quality. In a couple of months, she has only needed to add more air one time. The coils provide additional comfort. It is a legitimate queen size. The inserts for the linens provide for a comfortable and snug fit. The distance from the ground of the mattress is great. This mattress filled up with air in just a couple minutes and yes it deflates equally fast.
-- Trend
I really got tired after three months of sleeping on a camping air-pad on the floor, but couldn't bring myself to purchase a traditional mattress & foundation. Long-to-short, this mattress was purchased as a compromise. I have been using it daily for three months. I am not disappointed at all!
-- Michelle B.
Negative Customer Reviews
There are very few negative reviews of the Serta Elevated Diamond Coil Airbed. The only reviews with complaints deal with the mattress leaking air - a common problem with many air mattresses.
The first night I slept on this mattress it lost at least 40 percent of the air. The quality and comfort of the mattress is great. But the airbed does not hold air which is what I need it to do.
-- Barbara B.
Please note that this is not my experience with the mattress and the vast majority of customers give positive reviews of the airbeds ability to hold air for long periods of time. If you do have a problem with the mattress leaking, Serta offers a 1-year warranty that can you can use to get a replacement or refund.
Recommendation
We give the Serta Airbed our highest recommendation for anyone looking for a top of the line air mattress or for an airbed as a substitution for a regular mattress.