Wenzel Insta-Bed Queen Raised Air Mattress
Wenzel Insta-Bed Review
Welcome to my review of the Wenzel Insta-Bed Queen Sized Raised Air Mattress.
Wenzel is a department of American Recreation Products and is a well known manufacturer of quality airbeds and air mattresses. In this review, I will focus on their Wenzel Insta-Bed Queen Raised Airbed with built-in air pump. I will take a in depth look at the features of the Wenzel Insta-Bed, compare customer reviews of this model, point out and discuss any negative reviews, and provide my overall recommendation.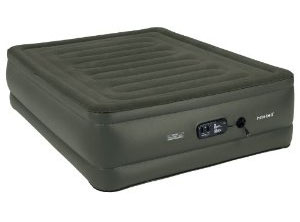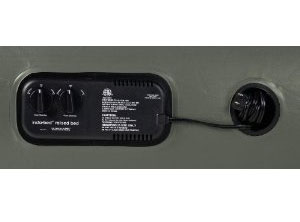 Wenzel Insta-Bed Description & Features
Welcome visitors to your household with a relaxing night's rest while they sleep on their very own Wenzel Raised Insta-Bed. When inflated, the Wenzel Insta-Bed is the same size and height of a regular queen sized mattress. This air mattress measures 80"x60"x22" when inflated to full. It comes equipped with a powerful 120-volt AC pump that allows for fast inflation and deflation. The bed inflates in less than two minutes and is designed with grips to keep the mattress from sliding around. Includes a flex coil construction for stability and a nylon carry bag for easy transport. This airbed comes with a 1-year warranty.
Features
Deluxe elevated queen airbed
Regular mattress height and size
Built-in Insta-III AC 120 volt pump for super-fast 90 second inflation
Bottom grips the ground and prevents the mattress from slipping
One Year Warranty
Reviews
I have purchased the Wenzel Insta Bed to replace a leaking bed for my son to use while at our cabin as a full-time bed. The bed inflates extremely fast--in less than two minutes. My son has been able to sleep on the bed for three nights straight without having to fill it with air, although it does leak some air over time. For example, if we leave the cabin for a week or so, when we return the mattress will need a little air to be fully inflated. Other than that, this air mattress has been perfect for us. The size makes it perfect as a temporary bed for guests or at a cabin or rental property. My son would like to use this bed while camping his tent, but it's a little too large.
Sample Customer Reviews
Customer reviews of this Wenzel Insta-Bed are excellent overall, although there are definitely some negative reviews to be found. For the most part, the negative reviews all deal with the mattress leaking air.
Positive Customer Reviews
This air mattress is a step up from the Aerobed. In contrast to my prior 2 aerobeds, this air mattress does not leak. No air leaks at all were found over an 8-10 day period of time of visitors. Not even a gradual leak. The air pump is speedy and the power deflate is actually a genuine time and space short-cut. Flocking on the air mattress is a lot warmer compared to a cool plastic-type top. I find it hard to believe exactly how much less in cost this Wenzel Airbed is over the aerobeds.
-- W. Chase
This is the best air mattress I have found so far. I have purchased 2 aerobeds previously. This one keeps air for a full 3 nights. If anything, we just had to add a little air. My guests really enjoyed this. Very comfortable air mattress. Sheets stay in place and bed does not slide around. Great item.
-- C.S.
Negative Customer Reviews
This air mattress had been used a few time then, produced a bubble within the middle which would not go away and ultimately a leak formed. I would not recommend this airbed.
-- T.C.
I purchased this air mattress simply because I saw some good reviews but my experience was definitely not good. The quality regarding this item is poor. I need to put air in every thirty minutes in order to keep it firm due to the fact it has a slow leak.
-- Y. Chen.
Recommendation
Despite a couple customer reviews indicating that some beds may have problems with leaking air, Wenzel offers a 1 year warranty on this model and overall, the reviews are extremely positive. We recommend the Wenzel Insta-Bed for anyone looking for a guest or part-time bedding solutions.