Blueair 503 HepaSilent Air Purifier
Blueair 503 HepaSilent Air Purifier Review
Looking for a high-grade air purifier that receives great reviews and can clean air in rooms up to 580 square feet? The Blueair 503 Air Purifier receives high marks from both customers and consumer reports.
The Blueair 503 Air Purifier features a modern, streamlined steel construction and design and cleans air at a rate of five times per hour in rooms up to 580 square feet. Featuring HEPASilent filtration technology, it captures 99.97 of airborne particles produces fresh, clean air perfect for people with allergies or other breathing problems. Featuring a CADR rating of 375, it easily removes contaminant such as dust mites, mold spores, pollen, and pet dander from the air.
3-Stage Filter & SurroundAir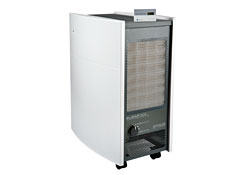 The Blueair 503 collects and eliminates up to 6 times more pollutants that other popular air purification systems thanks to it's 3-Stage progressive filter. For those concerned about drafts, the Blueair 503 Air Purifier features SurroundAir technology which draws in room air from the bottom and sides and gently releases it from the sides and top, reducing strong breezes that can become an annoyance.
3-Speed Settings
The Blueair 503 can be adjusted for many rooms and conditions with 3 separate speed settings. For nighttime use, HEPASilent mode allows the unit to clean air while running virtually noise-free. The moderate fan setting is perfect for regular, daytime use. The highest setting allows for quick purification of highly polluted air. This unit receives outstanding ratings for sound levels on both HEPASilent and Moderate fan settings, making it the perfect choice for both office and bedroom use.
Features
Energy Star Compliant
3-speeds
HEPASilent technology
Power-On Light
Filter Replacement Indicator
Easy to maintain and replace filters
5 air changes per hour for rooms up to 580 square feet
CADR rating of 375 for smoke, dust, and pollen
SurroundAir system
Galvanized steel construction
100-percent-recyclable filter media
Waterproof
Resistance to bacteria, bold, and viruses
Measures 13 by 20 by 26 inches
5-year limited warranty
Blueair 503 HepaSilent Air Purifier Reviews
Sample Customer Reviews
The Blueair 503 receives outstanding reviews from customers.
Positive Customer Reviews
My asthma is terrible and has me using an inhaler at all times. Since purchasing this unit and running it my apartment, I never use the inhaler when at home anymore. Simply amazing. Within two hours you will notice and breathe much cleaner, fresher, air.
-- G.P.
We purchased this for a home remodeling project and it worked great. Now use it regularly during the day, really helps my allergies.
-- T.C.
I am amazed by how quiet the Blueair 503 is. On the highest setting it's somewhat loud, but on low and medium you can barely hear it running.
-- S.P.
Negative Customer Comments
Be aware that this model does not contain a pre-filter. This means more dirt makes it way to the HEPA filter, which in turn leads to having to replace it more often. 
-- C.D.