Miele Capricorn Canister Vacuum S5981
Miele Capricorn Vacuum Review
Welcome to our overview of the Miele S5981 Capricorn Canister Vacuum.
Miele vacuums feature superior engineering, design, and performance.  A German based company, Miele vacuums are the choice of hotel and cleaning staffs around the world. 
On this page, we will be reviewing the Miele Capricorn S5981 Canister Vacuum, which is a favorite of many among Miele's S5 line of vacuums. We will look at the Capricorns's features and tools, compare both positive and negative reviews of the S5981 by actual Miele customers, and finally an overall recommendation. 
Miele S5981 Capricorn Vacuum Description & Features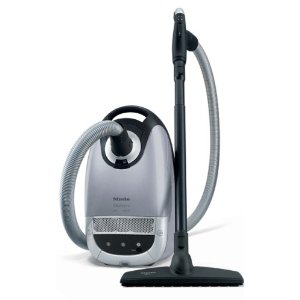 Deciding which Miele vacuum cleaner to purchase can be a confusing process, to say the least.  Model numbers are similar, the vacuums look almost identical, so it can be difficult to determine which vacuum best suits your specific needs.
When purchasing a Miele vacuum, your first consideration should be the floor tools that the vacuum comes with. The floor tools you will need depend on what type of carpeting or flooring that will be the primary use of the vacuum. The second thing you need to compare is the type of controls that the vacuum offers (Dial Controls vs. Step Controls vs. Handle Control).
The Miele Capricorn S5981 includes the following features:
SEB236 Electric Floor Tool or SEB217 Powerhead
Electronic Handle Controls
The SEB236 is Miele's premium powered floor tool.  The Capricorn is the only S5 model to come equipped with controls on the handles (as opposed to dial controls or a step control). 
The handle controls are the biggest difference between the S5 models. While each comes equipped by default with different power tools, most can be equipped with any of the power tools that Miele offers.
Features
Electric Floor Tool SEB236
Lightweight
Powerful Vortex Motor but still very quiet

Electric hose

Natural bristle dusting brush

Upholstry nozzle

Crevice tool

Active HEPA Filter
Electric Telescopic Wand
29.5 feet cord length and operating area
Miele Capricorn Reviews
Miele Capricorn Canister Vacuum Reviews by actual customers have been excellent overall.
Sample Customer Reviews
Positive Customer Reviews
Makes my carpet look great.  Just a quality product that will last like vacuums use to.  If you are tired of buying a new vacuum every year becasue yours stops working than this is the vacuum for you.
-- Paul
I've never had a better vacuum cleaner. This picks up everything, and it does so quietly and quickly. This vacuum is awesome.
-- S.U.
I can't say enough about the quality of this product except that it is worth every penny! We have three pets and our Miele never disappoints.
-- B.C.
Negative Customer Reviews
While most of the reviews of the Miele S5981 Capricorn are outstanding, we were also able to find a couple negative reviews of the Miele Capricorn vacuum. 
It looks like our Miele vacuum cleaner has finally died. Its only a couple years old. On the plus side the Miele vacuum does have a lot of suction power and it is extremely quiet.
-- S.S.
I've always had upright vacuums before and I can't seem to get used to the canister - I don't find it as efficient, and I find the swiveling handle annoying - it always seems to be in the way. For the price that Miele charges, I feel the Miele Capricorn attachments are not designed very good.
-- D.S.
Recommendation
The Miele Capricorn S5981 Vacuum Cleaner is a great vacuum cleaner for anyone looking for a superior canister vacuum.